The National Groundwater Association recommends all well owners have their well inspected annually. Although this is especially important for folks who drink their water and may face health risks from water quality issues, it is also important for Atlanta Area wellowners, who may only use their wells for irrigation and filling their swimming pools.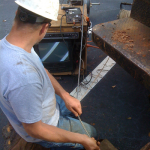 Annual inspections will set and monitor benchmarks for well yield, static water level, and pump performance, as well as water quality across key metrics: Iron 1 & 2, pH, Hardness, Total Dissolved Solids, and Bacteria.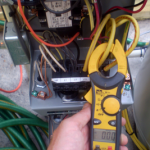 Iron and hardness problems can leave staining on surfaces, low pH can actually destroy property (think: acid rain), and Bacteria can be indicative of  surface water infiltrating between the bottom of the casing and the bedrock.  Water with out-of-range TDS can act just like acid, as the water molecules seek out solids to dissolve and absorb.
Changes in Static Water Level are common- usually appearing at the lowest around August, but well yields should be consistent- any changes that occur over time may be indicative of failing aquifers or crumbling well walls.
Failing pumps start to draw amp loads on the edge of their tolerances before they finally quit.  Monitoring changes in pump performance over time is the best way to plan and be prepared for a replacement, so it does not catch you off guard.
March 9-15 is #GWAwareness Week, and to celebrate, we are offering our signature 23 point WellCheck ℠ inspection for $250! Clients must schedule their appointment by the 5:00 pm on Friday, March 14, 2014 to receive this special pricing.
Call Today to Schedule This Important Service.  800-837-2997
Add to favorites