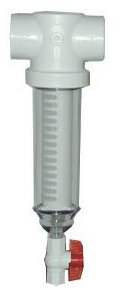 Vu-Flow filters are excellent at what they do: removing larger particulate sand and grit from your water before it enters your system.
For high-volume water systems, such as public water supplies or sprinklers on estate properties, we use them in combination with a PumpSaver gravel pack on the pump on our downhole applications, as a stage-2 pre-filter before the water is polished in our standard Big Blue filter. This reduces the expensive filter changes on the 20-micron disposable Big Blue filters.
Wherever possible, we install an automatic valve on the filter to flush the system for the client. These are either tied into an existing irrigation system, or are run off a separate clock. This usually does fine for removing the material from the filter screen; but sometimes it needs to be manually cleaned.
The system in the video is drawing from a pretty nasty creek. The client has some pretty large zones up on top of the hill, so he noticed some pressure drop in one of them, which prompted a service call from our friends at Stout Irrigation, who manually cleaned the filter for him. The client asked me to go ahead and make a walk-thru video so he could do it himself:
As you can see, it's a pretty simple procedure, but if you are having any trouble with your Vu-Flow filter, feel free to reach out.
We'll do what we can to help!
Add to favorites